Every month I post my updated net worth for those of you that are interested in following my progress. These
net worth updates
go as far back as
January 2006
. Tracking my net worth has helped keep me motivated, focused, and accountable. I look forward to compiling it at the end of each month, and I encourage you to consider doing something similar.
Well, so much for hitting the milestone this month. There was about a 2% drop in the market right at the end of June and shows up in my net worth. I was so close to a half a million dollars, but now I'm not even sure I'll make it next month either. Oh well, I'll just keep doing what I do and it will happen soon enough. June means a lot of dividends are paid as you can see below:
Investment Income:
Lending Club: $158.74
Stock Dividends: $220.51
401k Dividends: $31.57
Mutual Fund Dividends: $366.97
Roth IRA Dividends: $251.03
Total: $1,028.82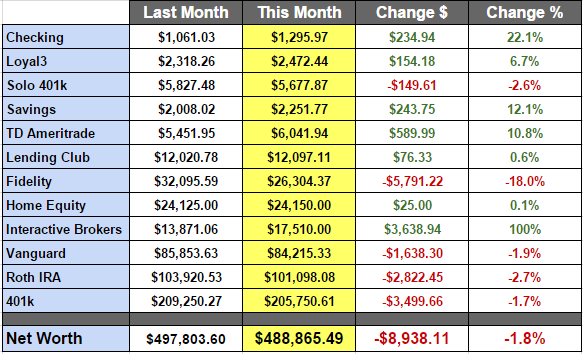 Notes:
Lending Club is a peer to peer lending site where I loan money and receive interest payments.
Loyal3 is a a brokerage which allows me to invest in my choice of over 60 stocks without paying any fees and in increments of as little as $10.
---