Every month I post my updated net worth for those of you that are interested in following my progress. These
net worth updates
go as far back as
January 2006
. Tracking my net worth has helped keep me motivated, focused, and accountable. I look forward to compiling it at the end of each month, and I encourage you to consider doing something similar.
After a pretty flat January, February was a big month with an over $20k increase in my net worth. And, after hitting 6 figures in my Roth IRA last month, I hit another nice milestone with over $200k in my 401k. Next up is getting the Vanguard taxable account to $100k.
Investment Income:
Lending Club: $153.38
Stock Dividends: $43.62
401k Dividends: $115.45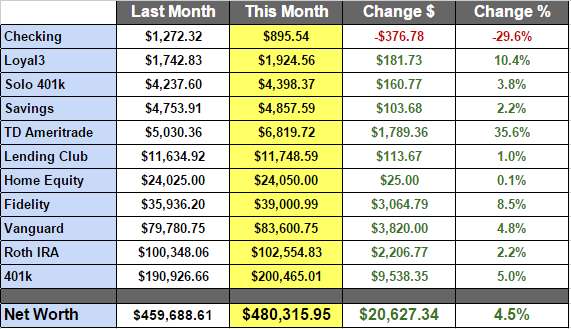 Notes:
Lending Club is a peer to peer lending site where I loan money and receive interest payments.
Loyal3 is a a brokerage which allows me to invest in my choice of over 60 stocks without paying any fees and in increments of as little as $10.
---