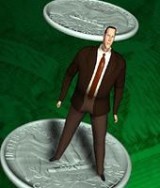 Accumulating Money is all about money and personal finance.  We believe that in order to make money you have to understand how it works.
That's what we'll attempt to do here.  Topics include all things financial namely investing, taxes, credit, debt, retirement, spending, saving, and more.
And you can follow my progress as I chronicle my attempt to increase my net-worth to 1 Million Dollars.  (I achieved this in 2019.  Now I'm headed for 2 Million).
I am not a personal finance professional, and while I do try to research the topics before posting, I can make mistakes, so talk to your own personal finance adviser before making any financial decisions.
If you are interested in advertising on Accumulating Money, or have any other questions, comments, or concerns, please contact me.
Thanks,
Clint