I began 2006 with a net worth of $23,797, and a goal of reaching one million dollars. Title gave it away, but there you have it, I'm ending 2019 with a net worth of over one million dollars! Goal accomplished. Cheers.
The numbers…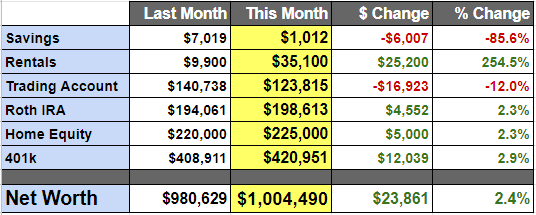 Of course, getting to one million dollars is not the end of the journey. Financial independence is the ultimate goal and we still have work to do to get there.
The reason for the drop in savings and trading account and conversely the increase in the rentals category is that in December we used funds to purchase an additional rental property. Another step towards financial independence.
We'll keep working toward our goals and hope that everyone has a prosperous 2020!