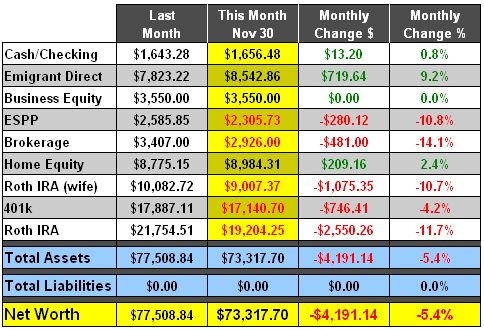 Hopefully the stock sale will continue into January (I have no doubts that it will) so I can load up our 2009 Roth IRA's at these discount prices.
Interestingly enough, it was exactly two years ago, in November of 2006, that my Roth IRA surpassed the $20,000 mark for the first time. Back then little did I imagine that I would pass the same mark again 2 years later in November of 2008, but this time heading in the wrong direction.
My net worth for the year is currently only positive by about $1500. The hopes of breaking $100,000 are obviously long gone. For now, I'm just trying to end the year at least $1 higher than I started it. On the positive side, I have increased the number of shares of stock that I own significantly, and when prices rebound, I'll be set to reap the rewards.