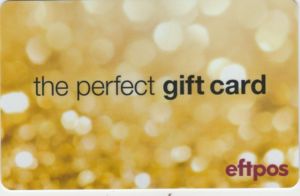 Your employees love getting gifts, but you want it to be something they actually like and not forced into. When it comes to corporate and business rewards, you'd want to promote goodwill and make it a win-win proposition. Gift cards are the best way to empower the recipient with the freedom to choose their reward.
According to statistics, 44.07% of employees agree that gift cards are the "best rewards to receive," while 27.12% agree that they are "good rewards to receive". Employee or corporate gift cards such as an eftpos gift card are the best ways to recognise employees and their outstanding contributions. It can also be used to reward your clients or customers.
Here are some of the top features of the best gift card that makes it beneficial for the giver and the recipient alike:
Simplify Gifting and Reinforce Your Brand
Whether you want to incentivise and reward your customers or employees, prepaid gift cards make your job easier. Instead of taking any extra time and effort to choose the right gift without personally knowing anything about the recipient, you may simply load a gift card with a cash amount of your choice and instantly get done with it.
Besides, you can also customise your brand name with attractive designs and enable the gift card to become a memorable souvenir that the employee or customer can keep.
Open Loop Gift Cards
Corporate cards like an Eftpos gift card are open looped, meaning it can be used at any shop anywhere in Australia, where it is accepted as a payment mode. This enables your recipient to choose from a variety of options and settle with what they truly like. It is valid for a long time, at least up to a year, so that they can make a purchase when a need arises.
Flexible and Fast
Do you need to find an immediate reward like a striking gesture of saying thank you? No worries, you can buy gift cards instantly and load it with your desired value in less than 24 hours. Personalised cards with the company logo or design take more time if you can wait. Every time the recipient uses the card, they will be reminded of their redemption and who gave them this reward.
Save Time and Money
For businesses that want to offer cashback programs to their customers, there is no added cost to manage claims and communication for the same. You can avail of a GST rebate on the value of the cashback.
Likewise, there are minimal administration costs for corporates and no need to maintain any inventory for the gifts separately. It results in huge cost savings and saves you from the hassle of hunting for a perfect gift, especially if there are too many recipients.
Ultimate Gifting Choice for Corporates and Business
Whether you want to reward your employees, recognise your clients, or strengthen a marketing plan, gift cards are the perfect alternative for any occasion. With an impressive variety of prepaid cards like an Eftpos gift card, you can rest assured of the joy and satisfaction that your gift will provide.
—
Julian Carter is a farmer of words in the field of creativity. She is an experienced independent content writer with a demonstrated history of working in the writing and editing industry. She is a multi-niche content chef who loves cooking new things.