When you originally started a blog, your intent may have been to offer the financial lessons you've learned from your past mistakes. Maybe you wanted an easy way to keep your family and friends up to date on the crazy antics of your children and how you go about parenting a child with special needs. Maybe you're an avid reader and you wanted to write in-depth book reviews.
After you've been blogging for a while and your blog has evolved in to a much larger project generating some interest, the idea crosses your mind – "I wonder if I could make money doing this."
In short, the answer is yes.
Almost anyone can make money blogging if they really want to. But the question that begs to be asked next is: "How much money can I make blogging?"
Maybe you want to earn extra money to pay off your college loans. Or maybe you hope to turn your blog into a full-time job. Or maybe you just want a few extra dollars each day to support your coffee habit.
ProBlogger surveyed 1500 of its own readers who were trying to make money from their blog. This chart shows the amount of money these readers received in a typical month from their blog. Note that 63% made less than $3.50 per day. Also of interest is the fact that 4% made over $10,000 per month.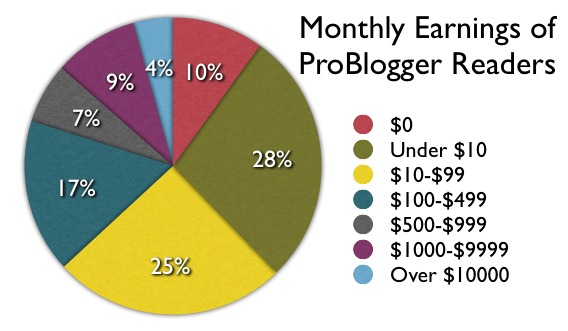 Image credit:
ProBlogger
If you're planning to make a substantial amount of money from your blog, it's going to take plenty of time and effort. A few quick and easy ways to jump-start your earnings are listed below:
Advertising Networks
Google AdSense is a simple way to start making money with your blog. You choose the location on your website where you want the ads to appear. Advertisers bid in a real-time auction to have the spot on your site, and the highest bidder wins the opportunity to place their ad on your website. AdSense then bills the advertiser and deposits the money into your bank account. You have the flexibility to choose how ads appear on your website, and also the option to block ads you don't want your readers to see. Additionally, ads can be targeted based on the content of your site or the interests of your readers.
Chitika, now a partner of Yahoo!, is an online advertising network that allows you to display targeted ads and earn money at the same time. The ads can generate revenue on their own but can be even more profitable when combined with other services, such as the Referral Program.
Affiliate Programs
Amazon Associates allows you to earn money from qualified purchases that originate from your site. You can link to a specific product, display a widget for daily deals, or choose a banner that highlights some of Amazon's most popular products. If your post mentions a product available for purchase from Amazon, include a link to the product. You'll get a percentage of the sale if someone clicks through your link to make a purchase.
Similar to Amazon's affiliate program, the Barnes & Noble Affiliate Program allows you to receive a percentage of sales on books, music, movies, toys, and more. If you are an author, you can receive an additional percentage on top of your royalties from every book order that originates through your affiliate link.
If your blog is tightly focused on music or books, you could apply to be a part of the iTunes Affiliate Program. You can earn commissions when you link to music, apps, or books available through iTunes. During the application process, you must provide a URL to a fully functional website. Once you are approved, you can even place affiliate links on your social pages, such as Twitter, Facebook, and Pinterest.
Your forte may be providing information on the latest electronic gadgets and gizmos. In that case, the Best Buy Affiliate Program may be of benefit to you. Whenever someone clicks through your link and makes a qualifying purchase, you earn a commission on the sale.
Request Donations
If you are providing valuable information or a beneficial service for free, it's acceptable to ask people for a monetary donation in return. You can place a customizable PayPal button on your website to allow readers to donate to your account. You will probably be more successful with this approach if your website isn't already loaded with affiliate links and advertising.
Sell Advertising
If you've built up a large fan base, you can sell ad space directly to businesses. This will generate more revenue for you than an advertising network. Choose companies closely related to the topic of your blog. Present the traffic information for your website to show that you have a large following.
Offer Benefits for Members
Some blogs lend themselves to be divided into two areas. One area is visible to everyone, and the other area is a "members-only" area that people pay to access. For example, if your blog provides readers with healthy living ideas, you may offer tips to stay in shape, information on supplements, and healthy recipes. Choose a portion of your articles and move them into a separate area for paid members. But don't move all of your best posts to that area – you need to leave good content in the free section to entice members to pay for more.
If your primary goal is to make a significant amount of money from your blog, then you need to strategize first. Don't put your blog together quickly and expect the money to start pouring in. Like any other start-up business, you must have a business plan first. The time you invest in the beginning will help to minimize problems further down the road, therefore increasing your potential for success.
—
Amy Kirkegaard is a freelance writer who writes on a variety of topics, including social media, online reputation management, and processing credit cards. She previously worked in marketing and human resources for an oilfield equipment manufacturer.